Thank You!!
We would like to thank everyone who have come to see our helicopter over the years. YN-19 will be making its final flight on November 7, 2013, where it will be flown to the Marine Corps Museum in Quantico, Virginia. The aircraft will be on display in the museum parking lot for a short period, before going to the restoration shop, where it will undergo additional restoration prior to going on display as part of the Marine Corps Museum's collection.

Videos of YN-19's Last Flight to the Marine Corps Museum:
UH-34 Pilot Extraordinaire?
It's a bird, no it's a plane, no it's…Lieutenant Colonel Art "Mad Mex" Sifuentes, USMC (Ret), flying a piston-powered Sikorsky UH-34D Sea Horse. Read the article.
2012 JOINT SERVICES OPEN HOUSE - ANDREWS AFB, MD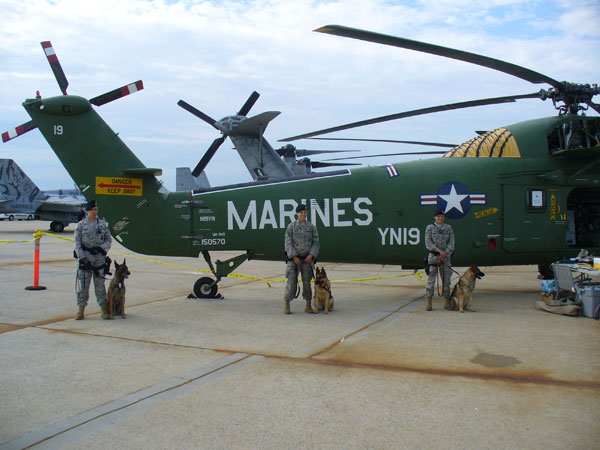 USAF K9s and handlers standing next to YN-19 at the 2012 Andrews AFB Airshow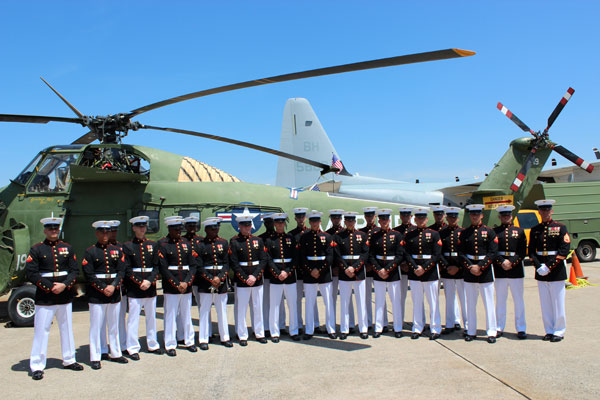 United States Marine Corps Silent Drill Team standing in front of YN-19
at the 2012 Andrews AFB Airshow
---
THE NATIONAL MUSEUM OF THE MARINE CORPS QUANTICO, VA

YN-19 DEPARTS THE MUSEUM PARKING LOT

AUGUST 17, 2008