BOOK OUR UH-34D
We welcome all Schools, Educational Events, Veteran's Organizations planning a Reunion, Air Show or special event we love to hear from you.

We are now flying our fully restored Vietnam UH-34D Sikorsky helicopter which took almost 6 years and over 20,000 man hours to complete. It will serve as a traveling memorial, history and educational tool. The aircraft has flown to several air shows and special events such as the Cherry Point North Carolina Diamond Anniversary Air Show, Thunder Over Michigan Air Show in Detroit, The Grande Old Air Show in Brookhaven, New York, Armed Forces Day for Suffolk County Hauppauge, New York.


Air Show Videos
Click here for our
Video of Downed Pilot Rescue at Thunder over Michigan air show 2007
Video of wounded medevac MCAS Cherry Point Air Show 2007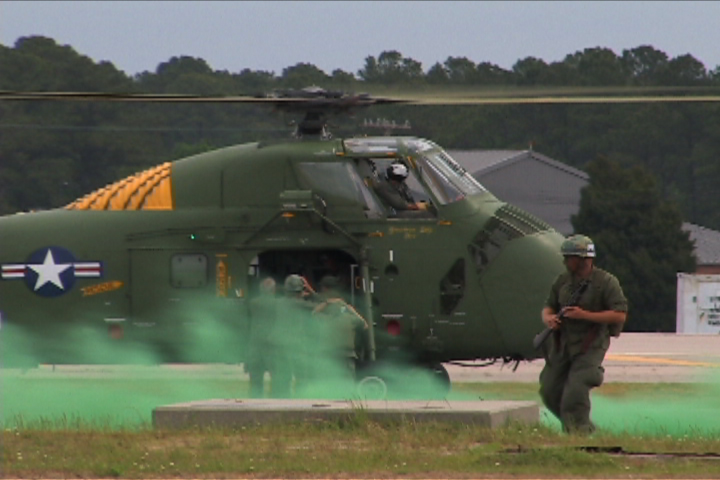 Our aircraft performing a Medevac reenactment at MCAS Cherry Point Diamond Anniversary Air Show May 2007
If you would like to book our UH-34D for your Air Show or Special Event
please fill out the form below and click Submit button.
We are available for Air Shows, School Events, Charitable Events, Veterans Events, Corporate Events both public or private, as a static display, or for Commercials or Film Productions. Our helicopter is a Vietnam era fully restored former Marine Corps Helicopter. Our experienced people are also available for movie consulting . We are located in Jamesport NY which is located 90 miles East of New York City area.
Submit your request by filling out the following form or for more immediate consideration please call Alan Weiss at 631-827-5526. Please understand due to the extremely high cost to operate and fly this helicopter we cannot deviate from the fee's listed below for any and all types of events.

If you are having an Air Show and are interested in our UH-34D
please contact Alan Weiss for a Medevac or Pilot Down reenactment DVD.
Appearance Fee

To Perform
CALL FOR
PRICE


Additional Costs to fly to and from the Show or Event are negotiable.
Cost will be based on total flight time, fuel, oil and maintenance costs.
| | |
| --- | --- |
| Static Display $2,000.00 plus | Plus additional Costs to fly to and from the Show or Event are negotiable. Cost will be based on total flight time, fuel, oil and maintenance costs. |
THE ABOVE RATES ARE BASED ON THE FOLLOWING CONDITIONS:
Please note this helicopter cruises at 85-90 knots.
Accommodations will be provided.
Round-trip fuel and oil will be additional.
Aircraft will fly one performance each day of the show.
All accounts are to be settled prior to departure at the end of the show.
Aircraft will arrive Friday and depart Sunday following the close of the show.
If tours or our Museum Store can not be conducted, a surcharge of $500. applies.
Appearances are subject to weather or mechanical problems with no penalty to M.H.S.-361-V.A.
Support aircraft and or support troops as part of our performance will be supplied by the air show. Transportation provided to & from airport, hotel & show functions. (1 large SUV/Van)
M.H.S.-361-V.A. Museum sales and aircraft must have unrestricted public access during entire show.

Any questions please call 631-827-5526
or send an email inquiry


Please note DVD's will only be sent to air show media personnel.
Ask me send a reenactment DVD for your Air Show or visit the above video links.
Please call Alan Weiss at 631-827-5526 or email for additional information.
---
Want to make a Donation to Us


Using Just Give just click on the Just Give Logo
FREEDOM'S FLYING MEMORIAL
P.O. Box 429
Cutchogue, NY 11935
Contact Alan Weiss 631-827-5526


Web site and all contents © Copyright of Freedom's Flying Memorial
2007, All rights reserved.